The following ministers and shepherds help to lead each member of the Friendship congregation into a closer relationship with God and greater commitment to his will through example, teaching, and counseling. Our leaders are always available to each member of the congregation as well as our neighbors in the community.
Ministers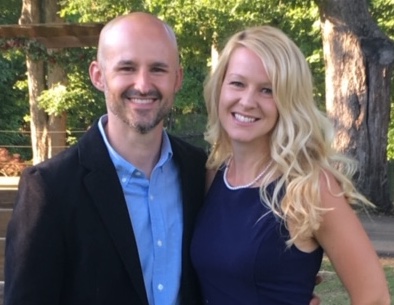 Preaching Minister
Kevin and Natalie Jourdan
Kevin Jourdan serves as our Preaching Minister. Kevin has been married to his wife Natalie for over 20 years. They have been blessed with five children whom they are raising to work and minister in the kingdom of God. Kevin felt a strong desire to give his life to Christ at a very young age and knew he wanted to commit his life to Christ and learn from Him. Kevin earned his Bachelor's degree in Bible and Ministry from Harding University. He has worked in ministry for over 20 years in Florida, Mississippi, and Tennessee. Kevin has worked in various positions in ministry over the years and has always had the loving support from his wife and children. In addition to ministry and preaching, Kevin also works as a full-time nurse where he serves and ministers to patients in dialysis. He earned a Bachelors of Science in Nursing in 2013. Kevin's deepest desire is to teach Jesus Christ and the gospel of the kingdom as he encourages the growth of the Lord's church. In his free time, Kevin loves date nights with his wife, spending a lot of time with his children, fishing, stripping and refinishing old furniture, creating designs with his wood-burning set, and watching LSU sports.

Worship Minister
Todd and Gail Tunnell
Todd serves as Friendship's Worship Minister, while both Todd and his wife Gail serve as ministry leaders over adult education.
They have two daughters, Tessa Denzin and Morgan Graham and two granddaughters, Vivienne and Violet Denzin.
Todd graduated with a BA degree in bible from Freed Hardeman University in 1985. He preached full time in Alabama and Texas for 10 years. He finished his Master's degree in Education Administration and shifted his career to teaching and becoming a principal, from which he retired in 2019. Todd also worked in the praise ministry at The Hills Church of Christ for 30 years. We are blessed to have both Todd and Gail as part of our Friendship family, working beside us.


Shepherding Our Flock
Friendship is blessed by the godly leadership of our shepherds (also known as Elders in many congregations). These men have been chosen by the congregation to be the shepherds of the flock because of their spiritual examples and godly wisdom. They are dedicated to the feeding, leading and care of the people under their spiritual oversight. We appreciate the long hours of service they give to the nurturing of the flock.
Deacons

Ministry Leads